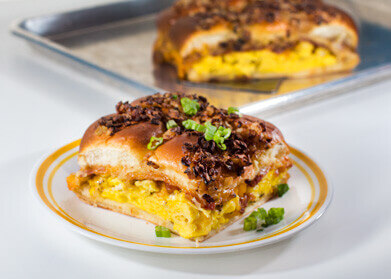 Ingredients:
1 Package Sweet Dinner Rolls
12 Eggs
8 Slices of Bacon (You can always use more!) Cooked Crispy
6 Slices of Cheddar Cheese
1/2 Sweet Onion Diced Small
1 Stick of Butter
Method:
Slice the entire package of rolls in half like a giant sandwich, with wise.
Scramble the eggs and cook them up. Place the bottom of the buns on a cookie sheet or 9×13 pan that has been sprayed.
Layer on the bacon and cheese. Put the top of the buns on.
In a sautee pan, sautee the onions in the butter until golden brown. Pour butter and onions over the sliders and bake at 350 degrees for 25-30 mins.
Cut into individual sandwiches and serve!