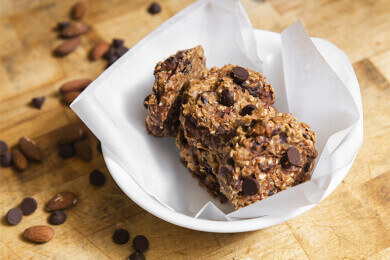 Ingredients:
3/4 Peanut Butter
1 Tbsp Honey
1 Tsp Vanilla
2 Tbsp Chia Seeds
3/4 Cup Quick Oats
1/2 Cup Dark Chocolate Chips
1/4 Cup Dried Cherries
1/4 Cup Chopped Almonds
Method:
Melt the peanut butter, honey and vanilla together in a large bowl in the microwave for one minute. Stir
Add the rest of the ingredients and combine.
Shape into eight balls and flatten them on a cookie sheet lined with parchment paper.
Chill for one hour. Store in an air tight container in the fridge.