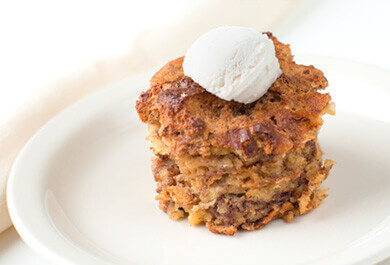 Ingredients:
8 Cups Large Cubed Leftover Bread
1/2 Cup Brown Sugar
1 Tbsp Honey
1 Tbsp Cinnamon
1/2 Tsp Nutmeg
1 Tsp Vanilla
6 Eggs
1 Can Evaporated Milk
Ice Cream
Method:
Place bread cubes in a large bowl with brown sugar, honey, cinnamon and nutmeg. In a separate bowl whisk milk, eggs and vanilla. Combine all together and place in a 9×9 sprayed baking dish.
Bake at 350 degrees for 30-40 minutes. Pudding should be firm. Allow to cool slightly. Cut with a circle cutter and top with vanilla ice cream. Serve and enjoy!!