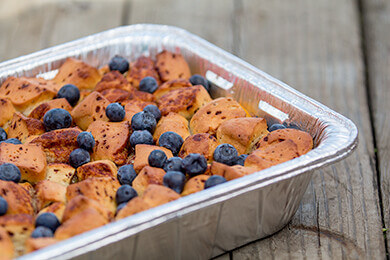 Ingredients:
2 Cans (21oz each) Blueberry Pie Filling
2 Cans (15.5 oz each) Sliced Peaches (drained)
2 Cans Cinnamon Rolls (12.4oz each)
2 Aluminum Pans 13×9
Tin Foil
Method:
Place one pan inside the other and spray the bottom with pan spray. Add blueberry and peaches. Cut up the cinnamon rolls and place them over the top of the fruit. Cover with foil and place over the camp fire. Or, for home use, do not cover and bake at 350.
Cinnamon roll should be cooked through. Timing depends on how roaring your fire is!