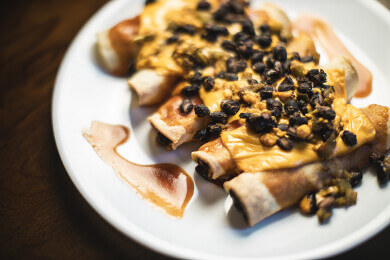 Ingredients:
1 16 oz Can Black Beans, Rinsed
1 4 oz Can Mild Diced Green Chiles
8 oz Dairy free Cheddar Cheese, Shredded
1 Tsp Cumin
1 Tsp Garlic Powder
1 Tsp Chili Powder
12 Corn Tortillas
Oil
1 Can of Mild Red Enchilada Sauce
Method:
Combine Beans, chili peppers, half of the cheese and the seasonings in a bowl.
Heat a couple of inches of oil (canola or vegetable oil) in a large skillet. One at a time, place the tortillas in the oil for 15 seconds. Remove from the oil and drain on paper towels.
Place some of the bean mixture on the tortillas. Roll and place in a foil lined pan. Top with enchilada sauce. Bake at 400 degrees for 15 minutes. Top with the remaining cheese and any excess bean mixture and bake until melted.
Serve and enjoy!