Ingredients: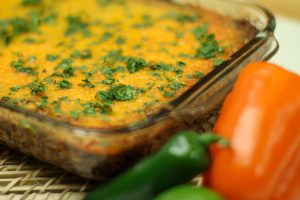 3 Tbsp Olive or Avocado Oil
3 Tbsp Flour
3 Cups Chicken Stock
1/3 Cup Chili Powder (I used regular and chipotle powder)
1 Tsp Salt
1 Tbsp Oregano
1 1/4 Cup Red Quinoa, Rinsed
3 Cloves Garlic, Minced
1 Small Onion, Diced
2 Bell Peppers, Diced
1 Jalapeno, Diced
Salt and pepper
2 15oz cans of Black Beans, Rinsed
1 Cup Frozen Corn
2 Tbsp Fresh Cilantro, Chopped
2 Cups Cheddar Cheese (Divided)
Method:
In a small pot, heat the oil and whisk in the flour. Continue to stir until smooth. Cook over medium heat for about 5 minutes, whisking constantly. Add the chicken stock a little at a time while still stirring, this will help prevent lumps! Add in the spices and simmer for for about 15-20 minutes, stirring frequently. Sauce should thicken. Set aside to cool.
In a medium pot, cook the quinoa in 2 1/2 cups of water. Drain any excess water.
In a large pan, heat a little oil and sautee the garlic, onion and peppers for about 5 minutes. Add in the sauce, beans and corn. Bring to a simmer and add in the cooked quinoa. Simmer again and stir together. Add in cilantro and half the cheese.
Pour into a 9×13 pan and top with additional cheese. Bake at 375 for 20 minutes. Cheese should be bubbly. Serve with your favorite toppings!