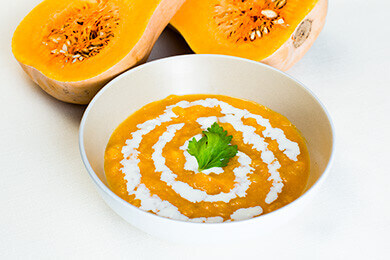 Not only was this a favorite on Nick's Picks, but it was at the dinner shows too! And it's so easy!!!
Roasted Butternut Squash Bisque
This is the soup that you have been waiting for! This was done for the Christmas Dinner Concerts and several of you have requested the recipe!
Ingredients:
1 Butternut Squash
Olive Oil
Salt and Pepper
1/2 a Yellow Onion Diced
1 Tbsp Salt
Olive Oil
4 Cups Water
1 Cup Heavy Cream
Method:
Slice the squash lengthwise and remove the seeds. Brush the cut side with olive oil and season with salt and pepper. Place cut side up in a roasting pan and roast at 375 degrees for about an hour. Squash should be golden brown and bubbly. Allow to cool until you are able to scoop out the flesh from the skin. Set flesh aside
Saute the onion with salt and olive oil for about 5 minutes in a large pot. Add in squash and mash, reduce the heat to medium low and add water. Allow to simmer for about 30 minutes, stirring often. Taste and adjust salt and pepper if necessary. Remove from heat and whisk in the cream. Serve!!