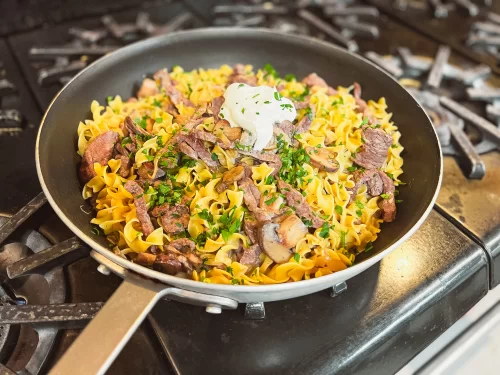 1 Yellow Onion, Sliced Thin
8oz Fresh Mushrooms, Sliced
3 Garlic Cloves, Minced
1 Tbsp Butter
1 Tbsp Olive Oil
1 1/2 Pounds Beef Sirloin, cut into thin strips
1/4 Cup Red Cooking Wine (optional)
4 Cups Beef Stock
1 Tsp salt
1/2 tsp Black Pepper
12 oz Package Egg Noodles
3/4 Cup Sour Cream
1 Tbsp Fresh Parsley, Minced
Method:
In a large skillet, heat the oil and butter and sautee the onions, mushrooms and garlic over high heat for 8 minutes, stirring often.
Remove the onions, mushrooms and garlic and in the beef. Sear on all sides until browned, about 5 minutes. Pour in the wine if using and cook until all the liquid is gone. Add in the beef stock, the mushroom mixture and season with salt and pepper. Bring to a simmer and reduce the heat, simmer for 15 minutes.
Boil and drain the noodles.
Remove the beef pan from the heat and add in the sour cream, stir to combine. Add in the noodles and parsley. Serve and enjoy!