Ingredients: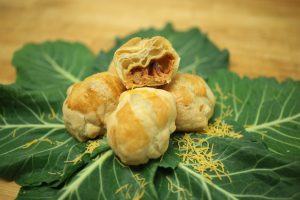 2 Packages, 2 Sheets each Puff Pastry
1 Pound Frozen Shredded Pork (thawed)
Dijon Mustard
8oz Frozen Fire Roasted Mushrooms
1 Cup BBQ Sauce
1 Cup Shredded Cheddar Cheese
1 Egg
Method: Remove the puff pastry from the package and lay flat to thaw. Unroll and cut each sheet into 4s with a pizza cutter
In the center of each square, put 1 tsp mustard and a couple pieces of mushrooms. Mix the meat with the bbq sauce and spoon over the mushrooms. Sprinkle the meat with cheese. Bring each corner to the center of the square. Repeat with the four new corners, pinching them shut.
Place on a cookie sheet lined with parchment paper with the folds on the bottom. Scramble the egg and brush it over each puff.
Bake at 375 degrees for 20-30 minutes. Each wellignton should be golden brown and firm. Serve and enjoy!