BBQ Meatball Sliders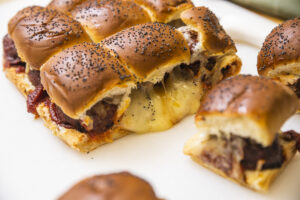 The Sauce-
1 15 oz Can Tomato Sauce
1/4 Cup Ketchup
1/2 Cup Brown Sugar
1 6 oz can Tomato Paste
2 Tbsp Worcestershire Sauce
1 Tsp Paprika
1 Tsp Black Pepper
1 Tsp Chili Powder
1/4 Cup Cider Vinegar
The Meatballs-
2 Pounds Ground Beef
1/2 Vidallia Onion Diced
2 Cloves of Garlic Minced
1/2 Stick of Butter
1 Tbsp Montreal Steak Seasoning
2 Eggs
About a Cup Panko Bread Crumbs
The Rest-
12 Pack Sweet Slider Rolls
1 Cup Shredded Smoked Cheddar Cheese
1/4 Stick of Butter
Poppy Seeds
The Method-
Combine all the sauce ingredients in a pot and bring to a simmer. Stir often and simmer for 30 mins. Remove from the heat.
Melt the butter for the meatballs and sautee the onions and garlic for 10 minutes. Combine all the meatball items and form into 12 large meatballs. Bake at 350 degrees for 30 mins. Place meatballs on paper towels to absorb any grease.
Slice the rolls in half width-wise. But the bottom of the rolls on a sprayed cookie sheet. Roll the meatballs in the bbq sauce and place one on each roll. Top meatballs with cheese. Put the tops of the buns on top. Brush with melted butter and sprinkle poppy seeds on.
Bake at 350 for about 10 minutes. Rolls should be golden brown and a little crisp, cheese should be melted.
Serve and enjoy!