Ingredients for 2 Large Salads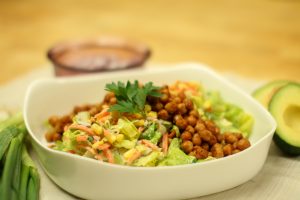 2 15oz cans Garbanzo Beans
1/2 Cup Your Favorite BBQ Sauce
4 Cups Chopped Romaine
1 Cup Frozen Corn, Thawed
1/4 Chopped Red Onion
4 Scallions, chopped
1 Avocado, Chopped
5 Tbsp Tahini
1 1/2 Tbsp Fresh Lemon Juice
Salt and Pepper to Taste
2 Tbsp Fresh Italian Parsley, Minced
About 5 Tbsp Water
Method
Drain and rinse the garbanzo beans. In a large skillet bring the bbq and beans to a simmer (I used Stubbs Spicy BBQ for an extra kick). Toss to coat and simmer until all the liquid has evaporated. Set aside.
Make the dressing by mixing the tahini, parsley, lemon juice and salt and pepper together, whisking in the water until it reaches salad dressing consistency.
In a large mixing bowl toss the lettuce, carrots, onions, corn and avocado with the dressing. Transfer to large salad bowls or plates and top with the bbq beans.
Serve and enjoy!