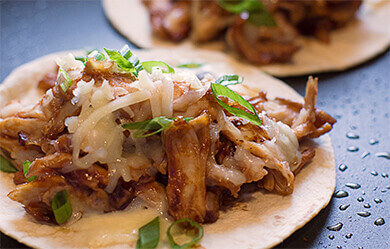 Ingredients:
One whole rotisserie chicken
1 18oz Bottle of your family's favorite bbq sauce
2 cups shredded cheese (I used monterey jack)
1 Package 6 inch flour tortillas
pan spray
Method:
Stop by the grocery store and pick up a fully cooked rotisserie chicken.
While the chicken is still hot, take the chicken meat off of the bones and cut it up or shred it. Mix it up with the bbq sauce in a bowl.
Using an electric griddle, heat it up on high. Spray it with pan spray. Place tortillas on the griddle. Put meat on the tortillas and top with cheese.
Once cheese is melty and tortillas start to crisp up a little, remove. Repeat if you have left over tortillas and meat.
Serve and enjoy!