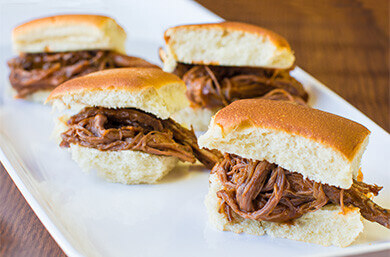 Ingredients:
3 pounds beef brisket
2 Tbsp apple cider vinegar
1 tsp Worcestershire
1 tsp soy sauce
1 tsp steak seasoning
2 cups bbq sauce
1 cup brown sugar
!/4 Cup Honey
1 tsp hot sauce
1 tsp cinnamon
slider or dinner rolls
Method:
Place the beef in a slow cooker. Add vinegar, Worcestershire, soy and steak seasoning. Cook on low for 8 hours. Drain juices and pull the meat apart. Add bbq, sugar, honey hot sauce and cinnamon. Return to the slow cooker and let simmer on low for 2 hours. Serve on slider rolls and enjoy the games!