Each Wednesday morning, Family Life Chef Nick Finlayson joins Jean and Rachelle with a recipe that you can serve to your family! With an emphasis, and easy, delicious meals, Nick's Picks You Can Fix will be a great addition to your recipe collection. Check back here for each week's ingredients and recipes.
Balsamic Chicken with Grape Tomatoes and Kalamata Olives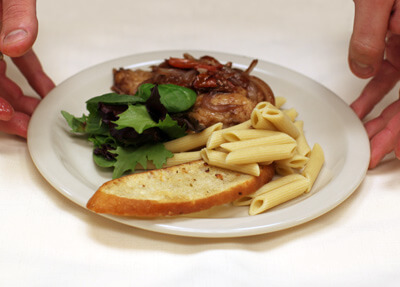 Ingredients:
2 Tbsp Vegetable Oil
½ Stick Butter
1 Cup Flour
6 (4-6 ounce) Boneless Skinless Chicken Breasts
½ Vidalia Onion Thinly Sliced
2 Garlic Cloves Chopped (about ½ tbsp)
1 Pint Grape Tomatoes Quartered
½ Cup Kalamata Olives (pitted)
3 Tbsp Balsamic Vinegar
1 cup Red cooking wine
Salt and Pepper to taste
1 Tbsp Fresh chopped parsley (optional)
Method:
Heat skillet and add oil and butter. Season Chicken with Salt and Pepper to taste and dredge in flour. Shake off excess flour. When the oil and butter is hot, add chicken to pan. Turn down heat to medium and cook for about 4 minutes or until golden brown. Turn chicken over and continue to cook for an additional 3-4 minutes. Remove chicken from pan and reserve. You may have to repeat the process depending on the size of your pan and the chicken.
Add Onions and garlic to the pan and cook for about 5 minutes until tender. Add wine and bring to simmer. Add tomatoes, olives and vinegar. Return to simmer and add the browned chicken. Top chicken with sauce and continue to simmer until chicken is cooked through. Taste and add salt and pepper to taste.
Remove from pan and top chicken with remaining sauce. Top with chopped parsley if desired. Try with pasta, rice or potato side and your favorite veggies and enjoy!!!