Perfect as an hor d'oeuvre. These sweet and smokey treats have a little kick!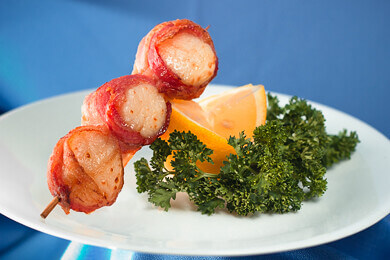 Ingredients:
1 Pound of Sea Scallops
1 Pound of Bacon
3/4 Cup Honey
1 Tbsp Horseradish (prepared)
Method:
Trim scallops if necessary and wrap each one with a strip of bacon. Use a toothpick though the middle to keep the bacon in place. Bake at 350 degrees for about 20 minutes.
Combine honey and horseradish. When Scallops are cooked completely, they should be firm to the touch but not rubbery. Coat with the honey mixture and serve hot!
Makes about 15 individual wrapped scallops.