Bacon Wrapped Chipotle Chicken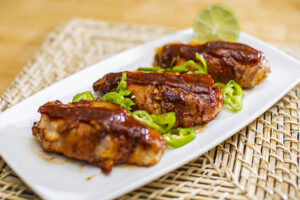 Ingredients:
1 7oz can Chipotle Peppers in Adobo Sauce
1 29 Oz Can Tomato Sauce
1/2 Cup Molasses
3/4 Cup Brown Sugar
1 Tbsp Chili Powder
1 Tsp Minced Garlic
Juice from Two Limes
1 Tsp Salt
1 Tsp Black Pepper
1 1/2 Pounds Chicken Breast
1/2 Pound Bacon
1 Cup Shredded Cheddar (Optional)
Method:
In a food processor, puree the peppers with the sauce. In a sauce pan, combine the peppers, tomato, molasses, sugar, seasonings and lime juice. Bring to a simmer and cook for about 30 minutes. Remove from heat and store in the fridge if not using right away.
Wrap the chicken with bacon. Use toothpicks to help secure the bacon if necessary. If you choose to, slice a pocket in the middle of the chicken and insert cheese before wrapping. Grill or bake, brushing the sauce on as you cook. You should have plenty of sauce left over to save for another time!