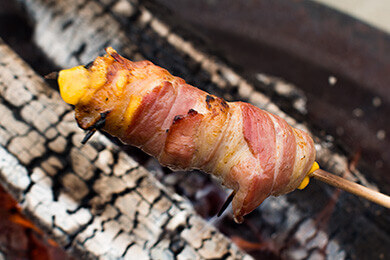 Another Delicious Campfire Creation!
Ingredients:
Take a hot dog and cut a slit lengthwise down the entire length of the hot dog. Place cheese inside the hot dog (about a 1/4 inch thick). Use cheddar or some other hard cheese. Wrap hot dog with two strips of bacon and overlap tightly so no cheese is visible. Secure with a couple of toothpicks.
Method:
Cook over a campfire until cheese is bubbly and bacon is crisp!