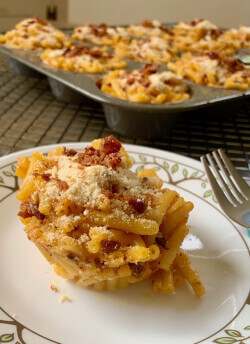 Ingredients:
2 Boxes Mac and Cheese (I used the classic blue boxes)
1/4 Cup Milk
3 Oz Bacon Bits
1 Packet Ranch Seasoning Or
1/4 Tsp Dry Dill
1/2 Tsp Garlic Powder
1/2 Tsp Onion Powder
1 Tsp Garlic Salt
1/4 Tsp Black Pepper
1 Cup Shredded Cheese (I used up some swiss and cheddar)
Bread Crumbs
Parmesan Cheese
Method:
Bring a pot of water to a boil and cook the pasta for 8 minutes, drain well. Add pasta back into the pot and add the cheese packets and milk, mix thoroughly. Add in bacon bits and seasonings. Spray a muffin pan with pan spray and spoon in the mac. Should make 12. Top with bread crumbs and parm cheese. Bake at 325 degrees for about 15-20 minutes. Allow to cool for about 10 minutes and remove from the pan. Serve and enjoy!