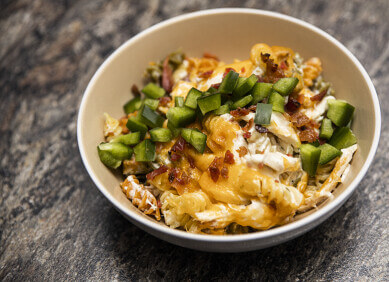 Ingredients:
8 Oz Shredded Chicken
1 Pound Rotini Pasta
6 Strips of Bacon
1 Brick of Cream Cheese
1 1/2 Cups Milk
1 Packet Ranch Seasoning Mix
1 Tsp Onion Powder
1 Tsp Garlic Powder
2 Cups Shredded Monterrey Jack Cheese
1 Cup Shredded Cheddar Cheese
Method:
Cook the pasta al dente. Drain and place in a large bowl. Cook the bacon, drain from grease and chop. Add to the pasta along with the shredded chicken.
In a small pot over low heat, bring the milk and sour cream up to a very low simmer, stirring often. Add the seasonings. Add the jack cheese and remove from the heat. Stir to combine. Add to the pasta. Transfer to a 9×13 baking pan.
Top with cheddar cheese and bake at 350 for 20 minutes.
Serve and enjoy!