A classic potato salad with bacon!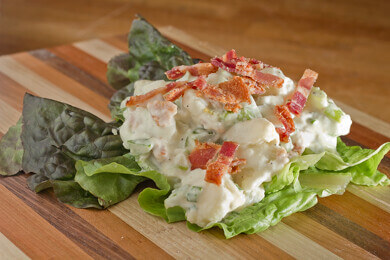 Ingredients:
5-6 Idaho Potatoes
1 Tbsp Salt
1 Cup Mayo
6 Strips of Bacon Cooked Crispy
2 Hard boiled eggs
2-3 Green Onions Chopped
1/2 Green Pepper Chopped
4-5 Pieces of Celery Chopped
1/2 Tsp Pepper
1 Tsp Powdered Garlic
1/2 Tsp Dry Mustard Ground
1/2 Tsp Paprika
Method:
Peel and cut potatoes into bite size pieces. Boil with salt for about 20 minutes until tender. Drain and cool. Chop up bacon and eggs and add all ingredients together in a large bowl. Makes about 4 cups.