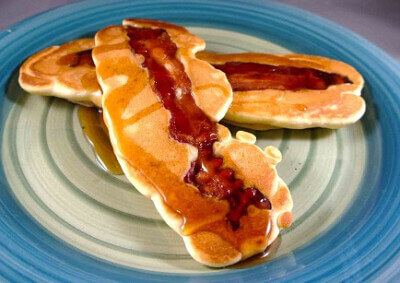 Ingredients:
1 Pound of Bacon
2 1/2 Cups Buttermilk
4 Large Eggs
4 Tsp Granulated Sugar
2 Tsp Baking Powder
2 Tsp Baking Soda
1 Tsp Salt
1/2 Tsp Vanilla Extract
2 1/2 Cups Flour
1 Stick of Butter Melted
Method:
Crisp and drain the bacon. Reserve In a large bowl, whisk together the buttermilk and the eggs until combined. Add sugar, baking powder, baking soda, salt and vanilla. Mix well. Add in the flour and mix well. While whisking, add the butter slowly.
On a hot griddle, lay out bacon and ladle the batter over the individual bacon strips, covering completely. After about 5 minutes flip over and finish cooking, about another 3 minutes. Repeat!
Makes about 18 Bacon Pancakes