Bacon Jalapeno Popper Pinwheels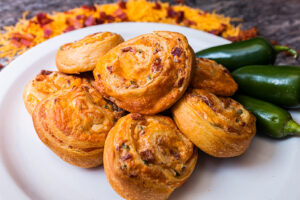 Ingredients:
1 pound of Bacon, Diced
2 Packages of Crescent Rolls
1 8oz Package of Cream Cheese, Softened
2 Cups Shredded Cheddar, Divided
2 Jalapenos, Minced
1/2 Tsp Black Pepper
1/2 Tsp Onion Powder
1/2 Tsp Garlic Powder
Method:
Cook and drain the bacon once crispy. Set aside. In a stand mixer, cream together the cream cheese, spices and jalapenos (leave the seeds and white parts in for more spice). Stir in 1 cup of cheddar and the bacon.
Unroll the crescent dough and pinch together the perforations. Spread the cream cheese mixture over each dough. Top with remaining cheese and roll tightly. Place rolls in the freezer to firm up a little for about 20 minutes. Slice with a sharp knife. Each roll should be sliced into 8-10 rings. Place on baking sheets lined with parchment and bake until golden brown at 350 degrees, about 20 minutes.
Allow to cool slightly on the pan before transferring onto a wire rack to cool the rest of the way. But serve them a bit warm!