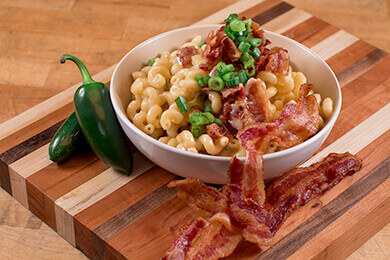 Ingredients:
1 Pound of Bacon
2-3 Jalapenos, whole and fresh
1 Pound Pasta
1 Tbsp Butter
2 Tbsp Milk
8oz Sharp White Cheddar Shredded
2-3 Scallions
Methods:
Lay out the bacon on a baking sheet lined with parchment paper. Place peppers on the bacon and bake at 400 degrees. Turn the peppers about 10 minutes into cooking. Cook bacon until crispy. Drain the bacon and let the peppers cool. Remove the stem, seeds and skin from the peppers. Chop the bacon and the peppers
Cook the pasta according to the directions found on the box. Drain the pasta and return it to the pot. Add in cheese, butter, bacon and peppers and stir until combined. Top with chopped scallions and serve!
Visit fln.org/nickspicks for more Nick's Picks.