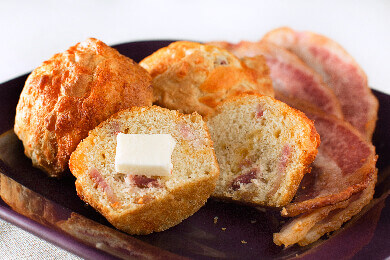 A complete breakfast in the palm of your hand!
4 Eggs
4-5 Strips of Bacon Cooked Crispy
1/2 Cup Minced Onion
2 Tbsp Butter
1 1/2 Cups Flour
1/2 Cup Cornmeal
1 Tsp Salt
2 Tsp Baking Powder
1/2 Tsp Baking Soda
1 Tbsp Sugar
2 Cups Shredded Sharp Cheddar
3/4 Cups Milk
1/4 Cup Sour Cream
Salt and Pepper
Method:
In a skillet, melt the butter and sautee the onion for about 4 minutes. Set aside to cool. In a large bowl, combine the flour, salt, cornmeal, baking powder and soda, sugar and 1 cup of cheese. In a separate bowl, scramble 2 eggs and mix the milk and sour cream until well combined. Finely chop the bacon, Combine the bacon, onions, flour mixture and egg mixture. Add salt and pepper to taste. Scramble the two remaining eggs and cook. Combine cooked scrambled eggs with the batter. Scoop mixture into well sprayed muffin cups. Top each muffin with a little extra shredded cheddar. Bake at 350 degrees for about 15 minutes or until an inserted toothpick comes out clean. Remove from muffin cups and serve!
Makes 12 Muffins