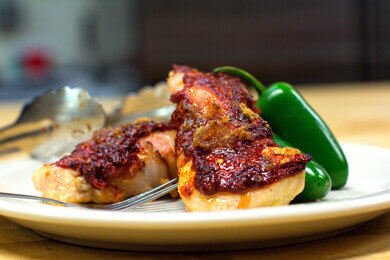 Ingredients:
1 1/2 Pounds Chicken Breast Sliced lenthwise
8-10 Slices of Bacon
Salt and Pepper
1 7oz can of Chipotle Peppers
2-3 Plum Tomatoes
1 Tbsp Honey
1 Small can diced green chiles, Mild
1 Tsp Lemon Juice
1/4 Cup Brown Sugar
Method:
Wrap the chicken in bacon slices. Place on a foil lined pan. Sprinkle with salt and pepper
In a blender or food processor, combine the remaining ingredients except the brown sugar. Puree
Spoon the puree on the chicken. How much you put on the chicken is up to you. The more puree you put on, the spicier it will be!!! Top with brown sugar
Bake at 375 degrees until fully cooked, about half an hour
Serve and enjoy…. Maybe with a glass of milk!