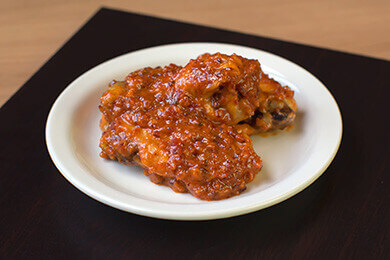 Ingredients:
1 Pound Chicken Wings raw
2 Cups Chopped Cooked Crispy Bacon
2 Tbsp Honey
1 Tbsp Brown Sugar
2 Tbsp Maple Syrup
1 Cup BBQ Sauce
1 Tbsp Cider Vinegar
Canola Oil
Method:
Boil the chicken wings until fully cooked. Drain and cool.
In a food processor, combine the bacon, honey, sugar, syrup, bbq, and vinegar until smooth.
Toss the wings in a little oil and dust with cayenne pepper (optional). Bake at 425 for about 15 minutes or until crispy. Toss in sauce and enjoy!