What better way to celebrate National Chili Day than with a bowl of this delicious invention!?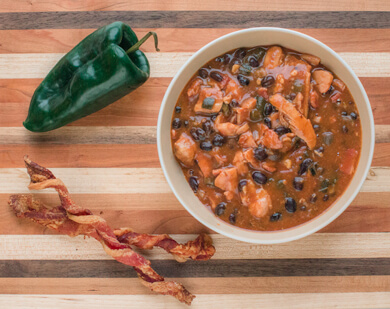 Ingredients:
1 Pound Thick Cut Bacon
1 1/2-2 Pounds Boneless Chicken Thigh
1 Cup Flour
Salt and Pepper
1 Medium Onion Diced
2 Poblano Peppers Diced
3-4 garlic Cloves Minced
1 Tbsp Chili Powder
Salt
4 Cups Chicken Broth
1 18 oz Bottle of your favorite BBQ Sauce
2 15.5oz cans Black Beans Drained and Rinsed
Methods:
Start by cutting the bacon into bite size pieces. Cook the bacon in a large pot until crispy. Drain the bacon, but leave a little grease in the pot. Dredge the chicken thighs in the flour with salt and pepper. Brown on both sides (about 3-5 minutes per side) in the bacon grease. Add onions, pepper, garlic, chili powder and salt to taste. Stir often. Add chicken stock and scrape the bottom of the pot to get all the good stuff. Add bbq sauce and beans and reduce hear to low. Barely simmer for about 30 minutes, stirring often. Chicken should start to fall apart. Add beans and cook for another 30 minutes and serve!