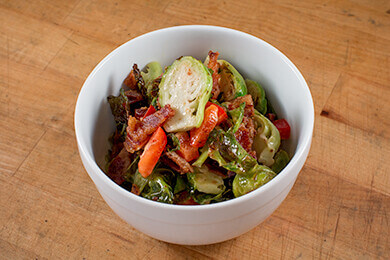 Ingredients:
2- 2 1/2 Pounds of brussel sprouts, trimmed and halved
1 Pound Bacon Cooked crispy, drianed and chopped
1/2 Red Pepper diced
Olive oil, salt and pepper
1 Tsp Dijon Mustard
1/8 cup Cider Vinegar
1/2 Cup Canola Oil
Method:
Place the brussel sprouts in a bowl and toss with a little olive oil, salt and pepper. Bake at 350 for about 15 minutes Sprouts should still be a little firm, but not mushy. Combine dijon with vinegar. Whisk in oil slowly to make a vinaigrette. Combine with bacon, brussel sprouts and peppers. Cover and refrigerate until needed. Best made the day before and served at room temperature.