The mother of all chilis! Just the right amount of spicy to win you over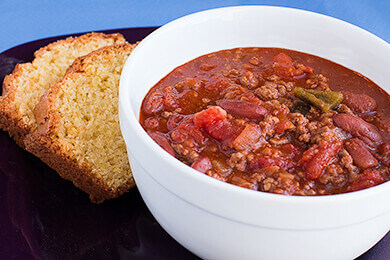 Ingredients:
2 Poblano Peppers
2 Jalapeno Peppers
4 Garlic Cloves
Olive Oil
Salt and Pepper
3 Pounds Ground beef (80/20)
1 Medium/ Large Onion Diced
1 28oz can Whole Peeled Tomatoes
1 28oz can Crushed Tomatoes
1 28oz can Diced Tomatoes in Juice
1 Tbsp Chili Powder
1 Tsp Mexican Chili Powder
1 Tsp Chipotle Pepper Powder
1 Bullion Cube
1 Tbsp Salt
1/4 Tsp Black Pepper
1 28oz can Kidney beans. Drained and rinsed
Method:
Coat the peppers and garlic in olive oil. Season with salt and pepper. Roast for about 30 minutes at 400 degrees. Skin should be blistering on peppers and tender. Place is a bowl and cover with plastic wrap. Leave at room temperature for about 15 minutes. Remove the skin and seeds from the peppers. Dice the peppers.
Brown the beef with the onions in a large pot. Drain the grease. Add tomatoes, garlic cloves, diced peppers and seasonings. Bring to a simmer and let cook for at least an hour. Add beans and continue to simmer for an additional 15 minutes. Serve it up with some cornbread or your favorite accoutrements!