Ingredients: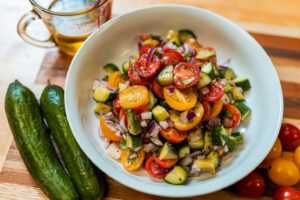 2 Seedless Cucumbers, Diced
1/2 Red Onion, Diced
1-2 Pints Cherry Tomatoes, Halved
2 Avocado
1 Tbsp Red Vinegar
1 Tsp Sugar
1 Tsp Lemon Juice
4 Tbsp Olive Oil
Salt and Pepper to Taste
2 Tbsp Fresh Chopped Basil
Method:
In a large bowl, combine the cucumbers, onion and tomatoes. Season with salt and pepper. Dice the avocado and add it in.
In a separate bowl, add the vinegar, sugar and lemon juice. Slowly whisk in the olive oil toss the veggies in the vinaigrette and add the basil.
Serve and enjoy!