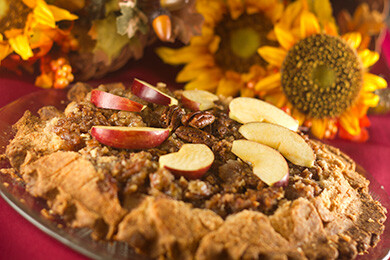 Ingredients:
tablespoons (3/4 stick) butter, melted, divided
1/2 cup packed light brown sugar
1/2 cup chopped pecans
1 (15-ounce) package refrigerated rolled pie crusts
1 cup granulated sugar
1/3 cup all-purpose flour
3/4 teaspoon ground cinnamon
5 large Granny Smith or other firm apples, peeled, cored, and cut into 1/2-inch wedges
Method:
Preheat oven to 375 degrees F. Coat a deep-dish pie plate with cooking spray and line it with wax paper. Coat wax paper with cooking spray.
In a small bowl, combine 4 tablespoons butter, the brown sugar, and pecans; mix well and spread evenly over bottom of pie plate. Unroll 1 pie crust and place it in pie plate, pressing crust firmly against nut mixture and sides of pie plate; set aside.
In a large bowl, combine granulated sugar, flour, cinnamon, and remaining butter; mix well. Add apples and toss gently to coat. Spoon into pie crust.
Unroll second pie crust and place over apple mixture. Trim and fold edges together to seal. Using a knife, cut four 1-inch slits in top crust.
Bake 1 to 1-1/4 hours, or until crust is golden (see Notes).
Carefully loosen wax paper around rim and invert pie onto a serving plate while still hot. Remove wax paper and allow to cool slightly; slice into wedges and serve warm, or allow to cool completely before serving.