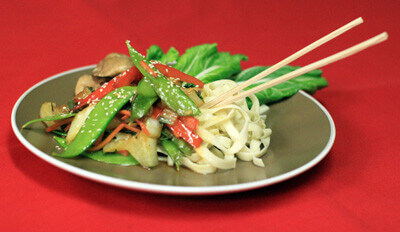 Ingredients:
16 oz Raw Lo-mein noodles
1 tbsp oil (canola preferably)
1 cup Pineapple Juice
1/2 cup Soy Sauce
1/4 cup Brown Sugar
2 tbsp oil (Canola preferably)
3 lb Head Bok Choy Chopped
1 Red Pepper Sliced into Thin Strips (julienne)
1 Orange Pepper Sliced into Thin Strips (julienne)
8 oz Carrots Shredded
4 oz Shitake Mushroom Sliced
1 lb Snow Peas
4 oz Fresh Ginger Peeled, minced
1 Jalapeño Pepper (optional) Seeded minced
1 tsp Garlic Chopped
2 Tbsp Sesame Seeds
Method:
Cook noodles as per package instructions. Reserve at room temperature and toss with oil to prevent sticking. Combine Pineapple Juice, Soy and sugar in a pot and heat to boil. Remove from heat once sugar is dissolved and reserve.
In a hot skillet or wok, heat oil. Add Peppers and Bok Choy and cook for 1 minute stirring frequently. Add ginger, garlic, mushrooms, snow peas, carrots and mushrooms. Continue cooking and stirring for 2-3 minutes. Add sauce and allow veggies to cook until tender. Sauce should bubble and reduce to a syrup like consistency, about 4 minutes more. Top noodles with mixture and garnish with sesame seeds.
Serves 8
Calories 430
Fat 5g
Sodium 1624mg
Carbs 133g