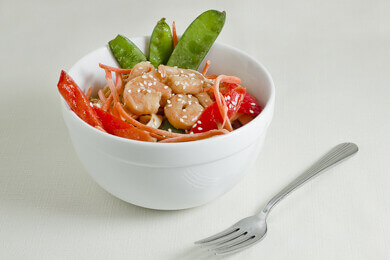 Ingredients:
1 Pound Lo Mein Noodles
Approx 1 Pound Shrimp Peeled and Deveined
1 cup of Canola Oil
2 Tbsp Peanut Oil
1/4 Cup Soy Sauce
2 Tbsp Peanut butter
1 Tbsp Rice Wine Vinegar
Pinch Crushed Red Peppers (if desired)
Pinch Sesame Seeds
1 Red Pepper Julienne
1/2 Pound Snow Peas
1 Carrot Shredded
2 ea Scallions Chopped
Method:
Boil the lo mein noodles until cooked and drain well. Toss in a little oil and refrigerate
Make the dressing in a food processor or blender. Combine all the ingredients until smooth.
Grill or sautee the shrimp with a little of the dressing. Combine the noodles, dressing, cooked shrimp and veggies and serve!
Serves 4-6