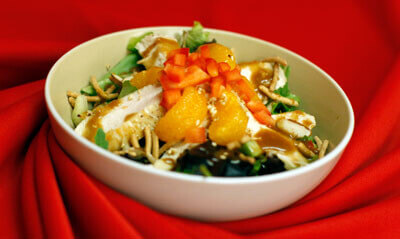 Asian Chicken Salad with Sesame Ginger Dressing
For the dressing
Ingredients:
¼ Cup Hoisin Sauce
¼ Cup Rice Wine Vinegar
¾ Cup Oil
¼ Cup Soy Sauce
½ Tsp Sesame Oil
¼ Cup Fresh Ginger, chopped
¼ Cup Brown Sugar
1 Tsp Garlic Powder
For the Salad
Mesculn Mix (spring mix)
Cooked Chicken Breast, Cooled and
sliced
About ½ Cup Celery Chopped
¼ Cup Almonds Sliced
1 Red Pepper chopped
1 Cup Mandarin orange segments
(drained)
½ Cup Chow Mein Noodles
Toasted Sesames for garnish (if
desired)
Method:
To make the dressing, combine all
ingredients in a blender or food processor except the oil. Blend until smooth.
Add oil slowly while still blending and reserve. Makes about 1 ½ Cups
Arrange the chicken on top of the
greens. Top with the celery, peppers, almonds, oranges, and chow mein noodles.
Top with dressing and serve!