The name says it all! Well, Most of it…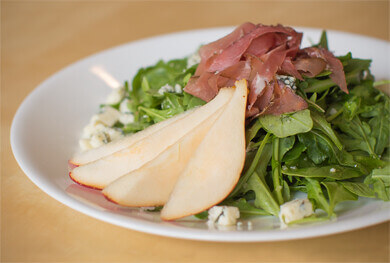 Ingredients:
About 5 ounces Fresh baby arugula
1 Tbsp Virgin Olive Oil
Sea Salt
About 8 Slices of Prosciutto cut into strips
2 Pears sliced
1/2 Cup Gorgonzola Cheese Crumbles
Method:
In a large bowl, toss lettuce with olive oil and a pinch of sea salt. Place in serving bowls or plates (about 4). Top with prosciutto pear and cheese. Serve!
It's that easy