A delicious treat the whole family can enjoy!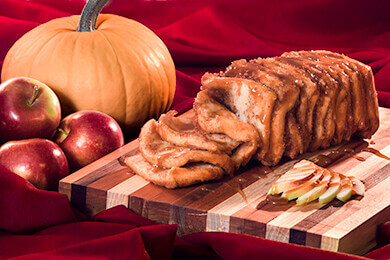 Ingredients:
1 Cup of Pureed Apple
1 Tsp Cinnamon
1/2 Cup Packed Brown Sugar
Pizza Dough (I used Pillsbury)
Caramel Sauce (recipe follows)
1 Tbsp Butter
Method:
Peel and core 3-4 apples and puree in blender or food processor. Add in the brown sugar and cinnamon and stir until smooth. In a small pot, combine 1 cup packed brown sugar, 1/2 cup heavy cream, 1/4 cup corn syrup and 1 tbsp of butter and bring to a boil. Cook for 5 minutes and set aside.
Remove pizza dough from packaging and spread out on a floured work surface into the shape of a rectangle. Spread the apple mixture all over, drizzle with caramel sauce. Cut dough 6×3 with a pizza cutter. Place into a sprayed mini loaf pan, one slice at a time standing up. Drizzle with melted butter.
Bake at 300 degrees for about 40 minutes. Let cool for 10minutes and turn over onto serving plate. drizzle with remaining caramel. Pull apart and enjoy!