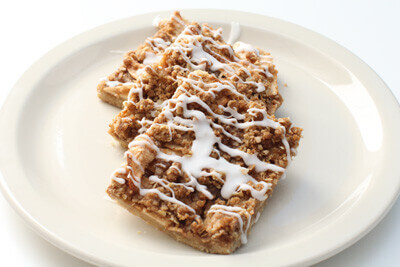 Ingredients:
The Crust:
2 Cups Flour
1/2 Cup Packed Brown Sugar
1 Cup Softened Butter
The Sauce:
1 Cup Packed Brown Sugar
1/2 Cup Heavy Cream
1/4 Cup Corn Syrup
1 Tbsp Butter
The Apples:
3-4 Apples (I use Cortland) Cored and Peeled. Thinly Sliced
Cinnamon
Lemon Juice
The Topping:
1/2 Cup Flour
1/2 Cup Oats
1/2 Cup Brown Sugar
1/2 Tsp Baking Powder
1/4 Tsp Cinnamon
1/3 Cup Melted Butter
Method:
Making the Pizza!:
Combine the crust ingredients with your hands or a pastry cutter if you have one of those. When crumbly, press into a sprayed cookie sheet or pie pan. Bake at 350 degrees for about 15 minutes. Let cool.
Combine the sauce ingredients in a small sauce pan. This is caramel no matter how you say it! Bring to a simmer, stirring often. Simmer for about 5 minutes. The sauce should hold to a spoon. Set aside
Toss apples with a little cinnamon and lemon juice
Combine topping ingredients with a pastry cutter again. Set aside
Pour and spread the sauce over the crust. Arrange apples on top of sauce. Top with topping. Wonder why they call it topping? Bake at 325 for 25 minutes. Apples should be tender. Allow to cool before slicing into desired slices. If you can wait that long!
Enjoy!