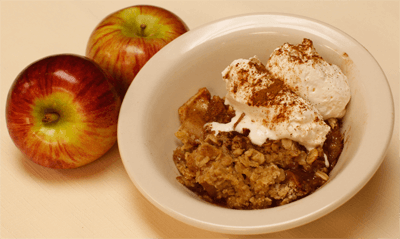 Ingredients:
8-10 cooking apples (Cortland, Empire, etc) Peeled, seeded and thinly sliced
1 Cup Brown Sugar
1/8 C Flour
1 Tbsp Vanilla
1 Tbsp Cinnamon
1 Tsp Nutmeg
Streussel topping
1 Stick Butter Cubed
1/4 Cup Flour
1 Cup Rolled Oats
1/2 Cup Brown Sugar
1 Tsp Cinnamon
Method:
In a large bowl, toss apples with the brown sugar, flour, vanilla, cinnamon and nutmeg until coated. Place in a 13×9 greased pan. In a separate bowl, combine the topping ingredients (preferably with a pastry cutter) until well mixed and crumbly. Top apples with topping. Bake at 350 degrees for about 40 minutes. The crisp should be golden brown, bubbly and the apples should be tender. Let rest for about 10 minutes before serving. Top with whipped cream or vanilla ice cream if desired!