A taste of autumn… in a muffin!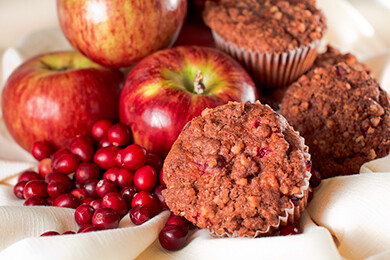 Ingredients:
1 1/2 Cups Flour
1 Teaspoon Baking Powder
1/2 Teaspoon Baking Soda
1/4 Teaspoon Salt
1 Teaspoon Cinnamon
1/2 Teaspoon Nutmeg
2 Eggs
1 Teaspoon Vanilla
1/2 Cup Sour Cream
4 Tbsp Melted Butter
1 Cup Packed Brown Sugar
1 Cup Diced Apples
1 Cup Fresh Cranberries
Topping
1/4 Cup Finely Chopped Walnuts
1/4 Cup Packed Brown Sugar
2 Tbsp Flour
1/2 Teaspoon Vanilla
1/2 Teaspoon Cinnamon
2 Tablespoons Melted Butter
Method:
Mix together all the ingredients for the muffin batter. Scoop them into lined muffin cups, you should have enough for 12 standard muffins.
Mix the ingredients together for the topping until crumbly. Sprinkle on top of muffins.
Bake at 350 for about 25 minutes or until an inserted toothpick comes out clean!
Let stand in muffin pan for 10 minutes before removing from pan and placing on a wire rack to cool completely