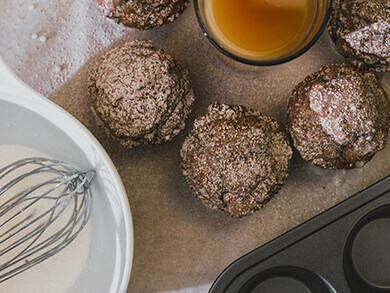 Ingredients:
3 Cups of Flour
2 Tsp Baking Powder
1 Tsp Baking Soda
4 Tsp Cinnamon
1/2 Tsp Nutmeg
1/4 Tsp Salt
1 Tsp Vanilla
1 1/2 Cups Apple Cider
2 Eggs
1 Cup Brown Sugar
1 Stick of Butter Melted
Glaze- 1 cup powdered sugar 2 tbsp apple cider
Sugar Topping- 1 cup powdered sugar 2 tbsp cinnamon
Method:
Mix together the flour, baking soda and powder, spices and salt in a large bowl. Set aside
Mix together the butter, eggs, cider, vanilla, and sugar.
Add egg mixture to the flour mixture and mix to combine.
Scoop into sprayed muffin pans (18 regular or 9 large)
Bake at 350 degrees for 30 minutes.
Cool for 5 minutes and then remove the muffins and place on a wire rack.
Mix together the glaze in a small bowl. Dip the muffins in the glaze upside down. Allow glaze to drip down the muffin and place them back on a wire rack.
Mix together the powdered sugar and cinnamon and sprinkle over the top using a mesh strainer or sifter.
Serve and enjoy!!