The taste of autumn in your kitchen!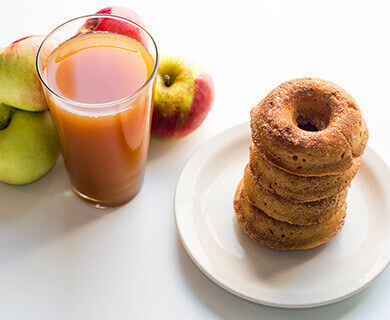 Ingredients:
2 Cups Apple Cider
10 Tablespoons Butter, Melted
1/2 Cup Brown Sugar
1/2 Cup Sugar
2 Eggs
1 1/2 Tsp Vanilla
3/4 Cup Buttermilk
1 Tablespoon Baking Powder
2 1/2 Cups Flour
1 Tablespoon + 1 Teaspoon Cinnamon
2 Teaspoons + 1 Teaspoon Nutmeg
Pinch of Salt
1/2 Cup Sugar
3 Tbsp Butter Melted
Method:
Put cider in a sauce pot and simmer for about 15-20 minutes. You should have 3/4 cup of reduced cider. Set aside to cool.
Mix together the melted butter, sugars, eggs, vanilla, buttermilk and cider. In a separate bowl, mix together the baking powder, flour, 1T cinnamon and 2t nutmeg, and a pinch of salt. Mix all ingredients together until just combined.
Transfer batter into a sprayed donut pan. Bake at 350 degrees for about 15 minutes, checking to see if they are done with a toothpick.
Melt the 3 tablespoons of butter and place it in a small bowl. Combine 1/2 cup of sugar with 1 tsp cinnamon and 1 tsp nutmeg.
While the donuts are still warm, dip lightly in the melted butter and cover with the sugar mixture. Allow to cool completely before storing. If they make it that long!
Makes about a dozen donuts