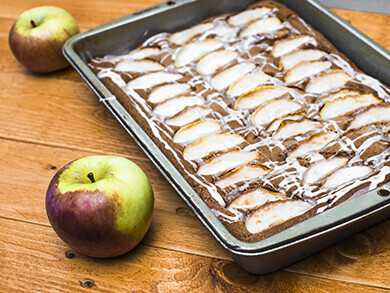 Ingredients:
1 Cup Apple Cider
3-4 Granny Smith Apples cored and sliced
Juice of one lemon
half a stick of butter softened
1 cup sugar +3 tbsp
2 large eggs
2 cups flour
1 1/2 tsp baking powder
1/2 tsp baking soda
1/4 tsp salt
1/2 cup heavy cream + 2 tbsp
1 tsp cinnamon
2 Tbsp Maple syrup
1 cup powdered sugar
Method:
In a small sauce pot, bring the cider to a boil. Keep boiling until reduced down to 1/4 cup.
Place sliced apples in a bowl and cover with lemon juice and little water. Toss to coat. Remove from juice and let dry.
With a hand mixer, beat the butter and sugar together for about 5 minutes or until fluffy. Add eggs to combine. Add flour, baking powder, baking soda, cinnamon, salt, 1/2 cup of heavy cream and the cider. Combine until just mixed.
Pour batter into a greased 9×9 baking pan. Arrange apples over the cake. Top with the 3 tbsp of sugar. Bake at 350 degrees for 50 minutes or until a toothpick comes out clean. Set aside to cool.
Combine the powdered sugar, heavy cream and maple syrup with a whisk. Drizzle over the cake and serve!