A classic dish you can make!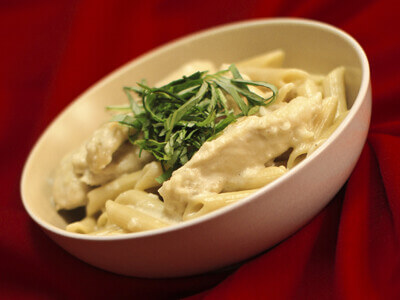 Ingredients:
4 Chicken Breasts (about a pound) sliced into strips
1 Pound Penne Pasta
1 cup Flour
1 Tsp. Salt
1 Tsp. Black Pepper
1 Tsp. Granulated Garlic
2 Tbsp. Oil (Canola)
1 Tsp. Chopped Garlic
2 Cups of Heavy Cream
16 oz. Chicken Stock
1/2 Cup Parmesan Cheese
Fresh Basil
Cook pasta as per packaging directions. Drain and Cool.
Method:
Combine Flour, Salt, Pepper and Granulated Garlic. Heat oil in large skillet. Dredge Chicken strips in seasoned flour and place in pan. Brown on all sides and remove from pan. Add chopped garlic and cook for about a minute. Add chicken stock and cream. Bring to a simmer. Add parmesan cheese and stir.
Add chicken and pasta and cook with the sauce until thick.
Top with fresh basil and enjoy!!