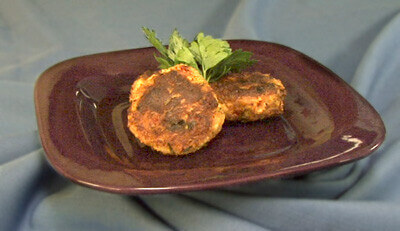 Ingredients:
1 Pound Fresh Crab meat
½ cup Mayonnaise
1 tbsp Dijon Mustard
3 Large Eggs
½ Cup Chopped Roasted Red Peppers
5-6 Slices of Bread (preferably white)
1 Tbsp Old Bay Seasoning
¼ Cup Fresh Chopped Parsley
½ Cup Panko Bread Crumbs
3 Tbsp Butter
Method:
Drain crabmeat and make sure that there are no shells. Scramble the eggs and add mayo and mustard. Add the egg mixture to the crab along with the peppers.
Remove the crust of the bread and dice. Combine with the crab mixture. Add Old Bay, parsley and bread crumbs. Check for consistency, the mixture should be firm but not hard. Add more bread crumbs if too runny.
Shape into crabcakes about 3 inches in diameter.
Melt the butter in a large skillet and heat pan. Brown each crabcake on each side until golden brown. Finish off in the oven at 350 degrees for about 10-15 minutes.
Serve and enjoy!