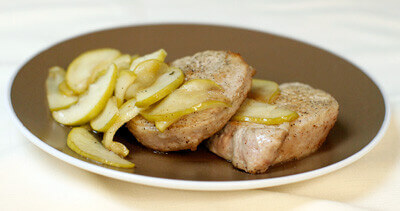 Ingredients:
4 Pork Chops, pounded
2-3 Granny Smith Apples, Cored thinly sliced
Salt, pepper and Nutmeg to taste
1 Tbsp Oil
2 Tbsp Maple Syrup
Method:
Season pork chops with spices on both sides.
Heat a large skillet with the oil. When hot, sear the chops on both sides for a few minutes until golden brown.
Transfer pork to oven proof pan and top with apples and drizzle with syrup
Bake at 350 degrees for 30-40 minutes until the pork is cooked through.
Serve and enjoy!