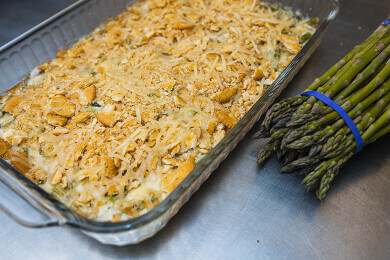 Ingredients:
2 Pounds Fresh Asparagus
1/2 Vidallia Onion, Diced
2-3 Cloves Garlic, Minced
2 Tbsp Flour
1 Cup Whole Milk
1 Cup Mayonaise
8oz Shredded Sharp White Cheddar Cheese
Salt and Pepper
1 Sleeve of Crackers Crushed
Method:
Wash the asparagus and cut off about an inch off the bottoms. Cut the remainder into two inch slices. Place Asparagus in a large bowl with the mayo and almost all the cheese (save about half a cup for later)
In a large skillet, melt the butter over high heat. Sautee the onions and garlic for about 5 minutes. Add salt and pepper to taste. Sprinkle in the flour and stir to combine. Add cold milk and whisk until smooth. Bring back up to a simmer. Pour into the bowl with the asparagus and mix.
Spray a 9×13 pan and pour in the mixture. Top with crushed crackers and bake at 350 for 40 minutes. Top with the remaining cheese and melt.
Serve and enjoy!