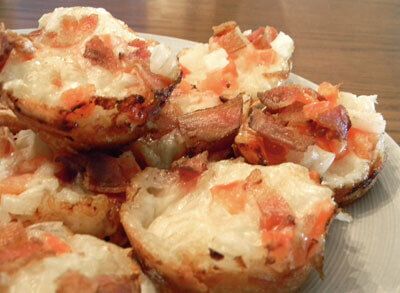 Bacon Tomato Cups
Ingredients:
8 slices of bacon, crisply cooked and broken into bits 1 medium tomato, seeded
1/2 small onion
3/4 cup swiss cheese, grated
1/2 cup mayonnaise
1 teaspoon basil
1 can flaky layered biscuits (10 oz.)
Method:
Mix all ingredients. Separate each biscuit into 3 layers. Lay across mini muffin tin and push into cups to form miniature pie crusts. Fill cups with mixture. Bake at 375° for ten to twelve minutes. Serve warm.