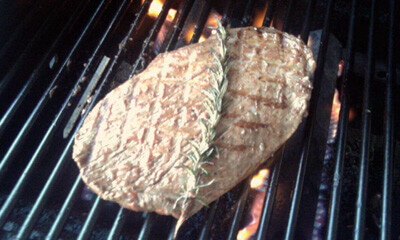 Ingredients:
Flank Steak about 1 Pound
¼ Cup Soy Sauce
¼ Cup A1 Sauce
¼ Cup Worcestershire Sauce
2 Tbsp Tomato Paste
3 Sprigs of Rosemary (fresh)
4 Garlic Cloves Smashed
½ Tsp Salt
½ Tsp Cracked Pepper
½ Tsp Cayenne Pepper
½ Tsp Smoked Paprika
Method:
Combine ingredients for marinade and coat the meat for at
least 24 hours. Grill to desired temperature and slice against the grain at an
angle. Serve!