A traditional Irish meal made easy!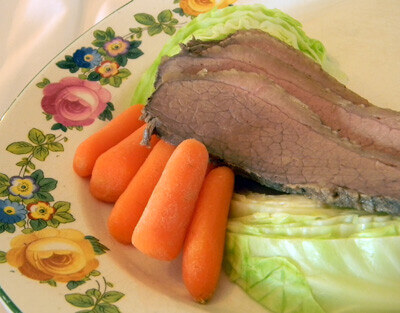 Ingredients:
1/3 C Salt
1/3 C Brown Sugar
1 Tsp Cinnamon
1 Tbsp Mustard
1 Tbsp Cracked Black Pepper
1 Tbsp Whole Cloves
1 Tsp Allspice
2 Bay Leaves Crushed
1 Tsp Ginger
1/3 C Water
1/3 C Apple Cider Vinegar
5-6# Raw Beef Brisket
1 Head of Cabbage
2 Tbsp Pickling Spice
Method:
Rub Salt, brown sugar, cinnamon, black pepper, whole cloves, allspice, bay leaves and ginger all over beef (both sides) Place beef in a large roasting pan and add water and vinegar on top of beef. Cover with foil and bake at 250 Degrees for about 4 hours.
Once fully cooked and tender, cool down over night with all the juices. Place beef in crockpot and cover with water. Add sliced cabbage and pickling spices. Cook for about 4 hours on low or 2 hours on high.
Remove beef carefully and slice thin. Drain cabbage and serve with the beef. Enjoy!