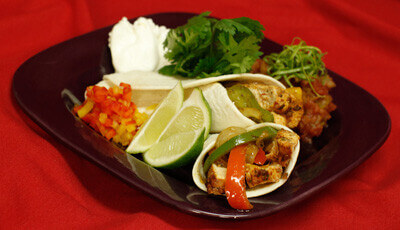 Chipotle Chicken Fajitas
Ingredients:
1 Pound Chicken Breast
1 7oz can of Chipotle Peppers
3 Cloves of Garlic
1 Lime
¼ Cup Loose Cilantro
½ Tsp Salt
1 Package of Flour Tortillas (6 Inch)
Sour Cream and Salsa if Desired
Veggies-
4 Peppers Sliced
1 Large Vidalia Onion (sweet) Sliced
1 Jalapeño (if desired) Seeded and sliced
¼ Cup Oil
1 Tbsp Salt
1 Tsp Black Pepper
1 Tsp Chili Powder
1 Tsp Garlic Powder
½ Tsp Paprika
1 Tsp Oregano
Method:
Zest the lime and juice it too. Separate and reserve. In a food processor, combine chipotle peppers, garlic, lime juice, cilantro and salt. Blend until smooth. Coat chicken with the marinade and lime zest. Refrigerate and hold for about 4 hours.
Combine seasonings for the veggies and set aside.
You can either grill, sauté or bake the chicken. Once cooked, slice into strips and hold hot. In a hot clean sauté pan, add veggies and oil. Season with spices and cook until tender (about 5 minutes)
With the tortilla open, spoon in the fillings and fold the tortilla. Add some salsa and sour cream 'cause this one's got some heat! Serves 6 two fajitas each